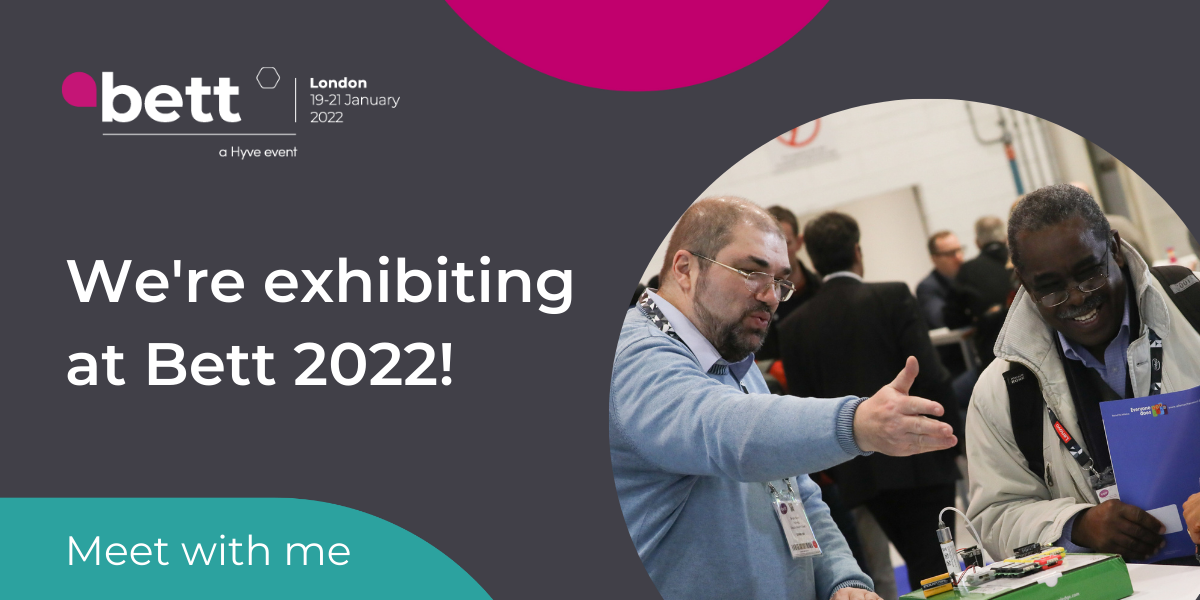 We're Exhibiting at BETT 2022!
BETT 2022 is the global community for education technology. We are excited to announce that we will be in attendance at ExCeL London on 19-21 January 2022.
BETT have identified eight key visitor categories that represent the education community in order to facilitate your journey and tailor your visit to your specific needs and priorities,. Check your profile and the top reasons you should come to BETT 2022 here.
We've seen the education community demonstrate true resilience in the face of disruption in the past year. It hasn't been easy dealing with the pandemic, it has been difficult and educators have dealt with it with grace. Above all, what is important is that teachers have remained positive and haven't let the pandemic slow the rate of progress being made.
BETT's year-round digital offering provided a platform for the education community to share their learnings from responding to the pandemic. Looking forward, schools and institutions are moving beyond crisis response with the aim to turn lessons learned into long-term action. At a strategic systems level, what can be retained, developed, and/or streamlined? At a practitioner level, educators are in a unique position to build beyond their huge initial upskilling in digital literacy and focus on developing their students' social-emotional skills, for example.
We're exhibiting at BETT 2022 to showcase our line of fantastic products. BETT will immerse you in inspiring content across the 3 days. You will also be able to network with educators from across the globe and access to innovative product demonstrations from our solution providers. We will be showcasing how our classroom VR/AR kits work with ExpeditionsPro to take students on virtual field trips!
Come and see us at Stand SE82!
Learn more here. Alternatively, register here.
We hope to see you there!