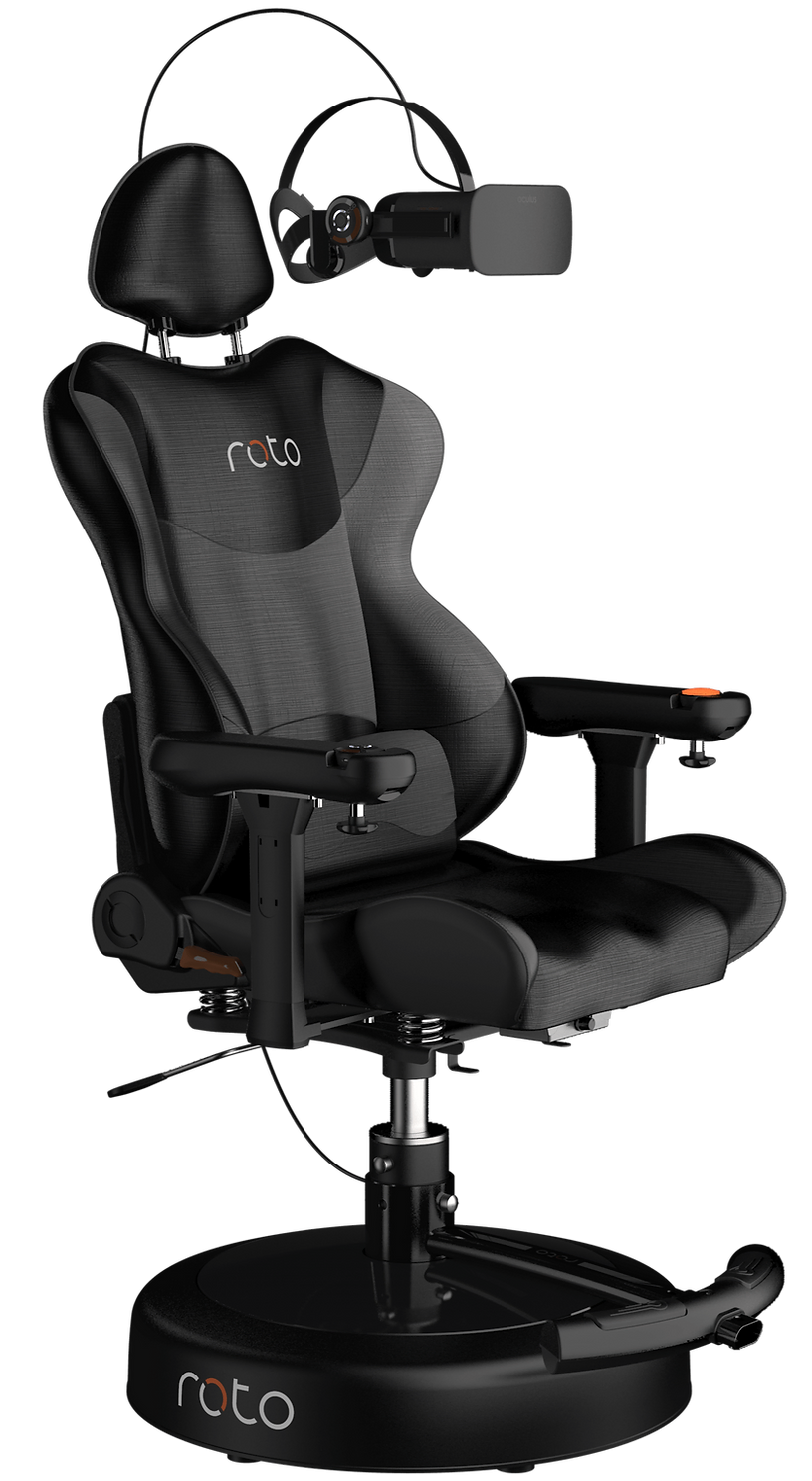 What is Roto?
Roto is the very latest in gaming technology, a truly next generation experience that delivers 360-degree immersion with the latest VR headsets and games.
Roto is the first seated product to offer intuitive and effortless 360-degree exploration whilst also massively enhancing the experience with immersive haptic (vibration) technology.
How does it work?
The Roto VR chair auto-turns to wherever you look – it's magical and truly ground-breaking.
In-built haptic sensors are built within the seat and provide a deep sense of immersion.
Attach the Roto VR headtracker to any VR headset and be amazed as the Roto VR Chair auto-turns to wherever you look.
The rechargeable headtracker is compatible with almost all VR Headsets allowing you to enhance your experience on any system.
Roto VR allows for intuitive and effortless hands-free exploration.
Features
No messy cables
Integrated Cable Magazines (slip rings) allow the chair to rotate continuously without wires getting tangled up.
Enhanced comfort
Roto has been designed especially for virtual reality, to make 360 degree exploration effortless. Height adjusters for the Roto VR Chair arms allow for the most comfortable experience.
Feel the sensation
Feel a heightened sense of immersion with Roto's powerful haptic sensors located at the back and underside of the Roto VR seat.
3 USB Data Ports
3 USB ports which allow for data transfer.
2 USB Charging Ports
2 USB ports that allow devices to be charged.
Emergency button
An emergency button that switches off all power instantly.
Get a Quote
Enquire now for information and pricing on RedboxVR products and solutions.