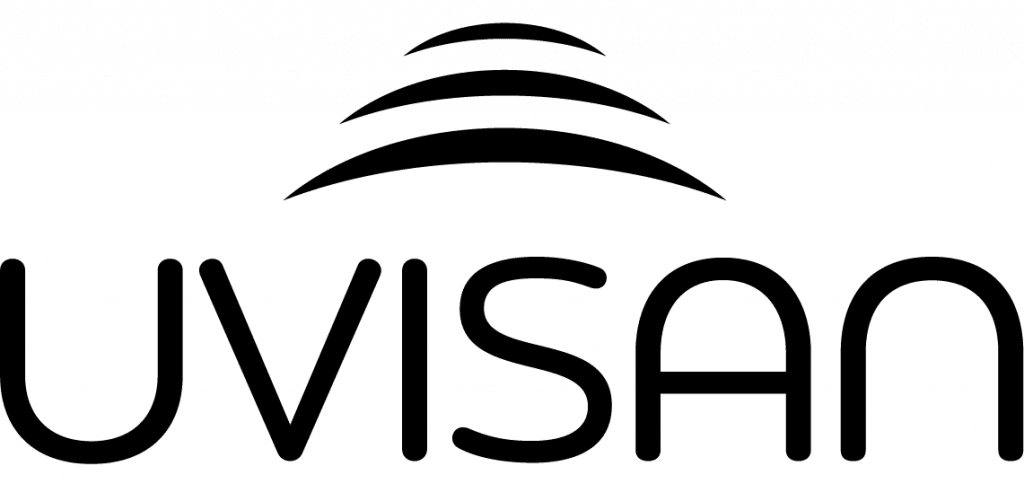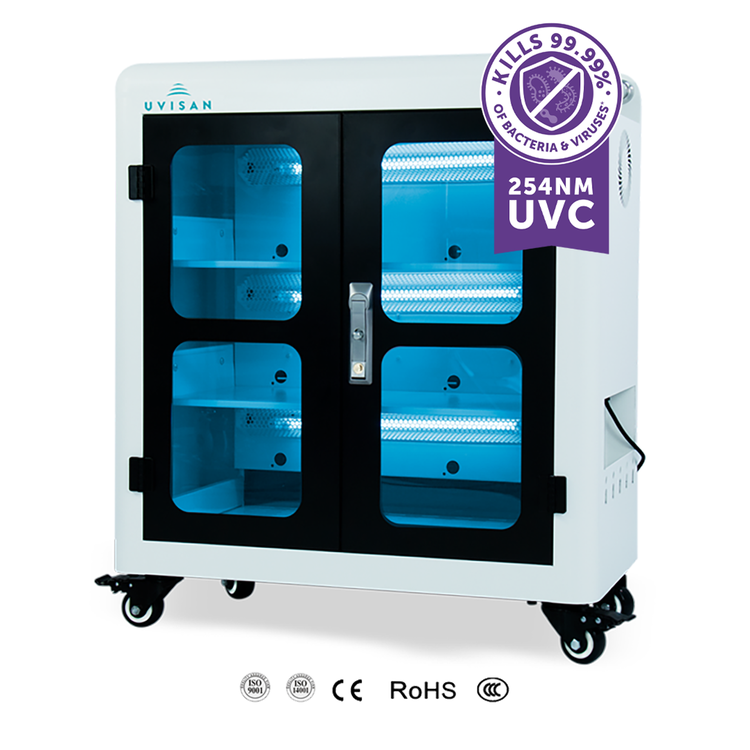 We are a certified reseller of Uvisan UV cabinets – which are perfect for sterilising VR & AR equipment.
---
Kills 99.9% of all Viruses & Bacteria
---
Easy & efficient to use
Full Surface Coverage

Sa

nitises any surface of any device or equipment

Up

to 100 Phones, 50 Tablets or 30 VR headsets

Suitable for PPE sanitation

Fully tested and certified in line with IEC 62471 and ISO standards
Supports battery powered operation when paired with UPS
Cutting edge sterilisation technology.
Reduce Costs
No wasteful and ineffective wipes required, low running costs
Environmentally Friendly
No wipes to landfill or the sewers, no harmful chemicals
Increased Security
Securely store and charge all your devices in one lockable cabinet
Magnetic Charging
Three charging zones. Magnetic end fast charging cables. Never find your devices without charge again
Protect Equipment
No damage from chemicals or mechanical cleaning
Be Safe & Meet Guidelines
Become Covid secure, RoHS, CE and CCC certification. Earth leakage & short circuit protection
Mobility
Four ultra universal wheels with locking which ensures easy movement on all surfaces. Available in 3 sizes to suit your needs.
Security & Strength
SPCC 3 Steel construction, 3 point lock.
Ergonomic Design
Double sided doors at the front and back of the cart for easy access.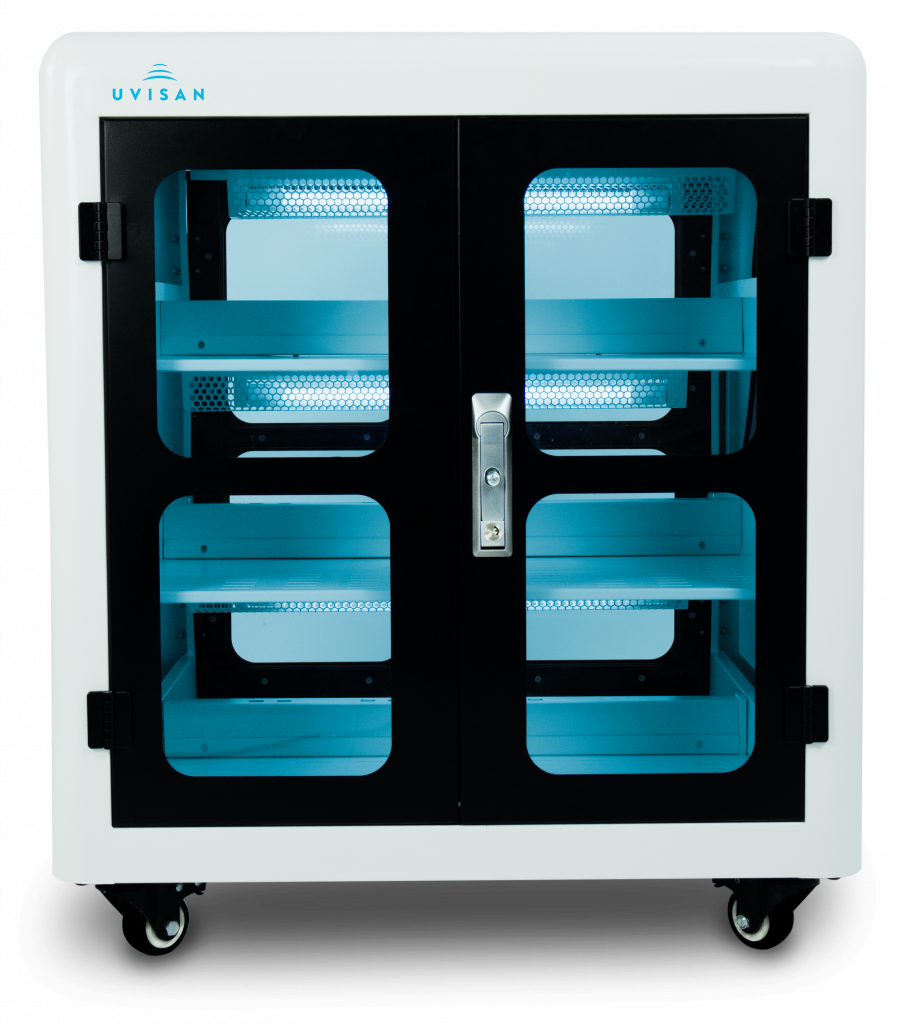 Magnetic Charging
Three charging zones (one per shelf). Magnetic end fast charging cables (effortless plugging).
Easy to Operate
Timer function for safety and maximum control.
Safety
RoHS, CE and CCC certification. Earth leakage and short circuit protection.
How it works
Designed around ease of operation and maximum efficiency.
1. Load & Connect
Prepare your equipment and load it up into the cabinet. Use provided charging solution to keep your devices connected. Lock up and begin cleaning cycle.
2. Cleaning Cycle
Use the integrated timer to set the cycle length.
Press start and relax.
3. Ready to Use
Once the cycle is complete the devices are ready to be removed and used. Unlock the cabinet and remove the devices.
Uvisan cabinets have been tested against SARS and MERS which are also both corona viruses and UVC light, the ultraviolet light that Uvisan cabinets use, was proven to be effective against both of those pathogens.
Features
Medical grade low pressure
Uses UVC light which has been repeatedly proven to be effective against all types of bacteria, viruses and fungi.
Full Surface Coverage
There are 3 UVC lamps in the cabinets positioned in a very specific way to give a full 360° sanitization effect.
Charging & Disinfection
Seamless integration of charging and sanitation solution to deliver a safe working environment and save time.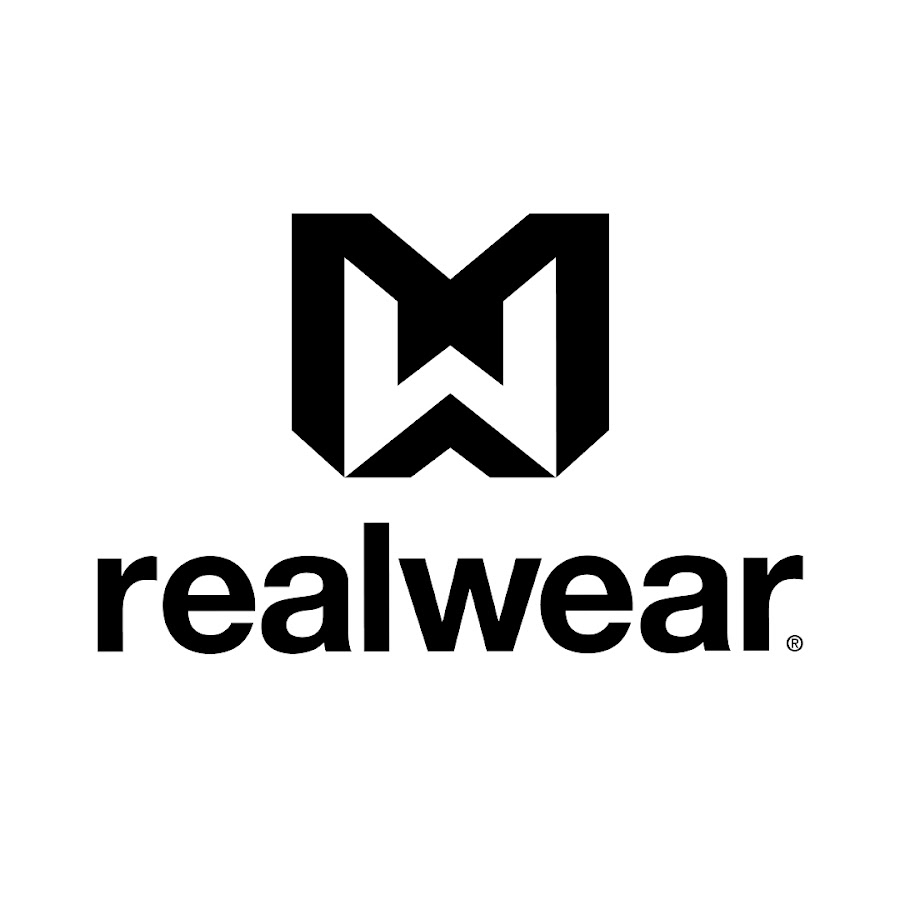 RealWear reviewed and recommended Uvisan cabinets to sanitise its headsets.
What customers are saying about Uvisan
"An amazing product with outstanding support! I can give my customers piece of mind when they receive safe and clean devices. It gives them the reassurance they need and shows how much we care as a business about the safety of our staff and customers"

Lez Gryzl, VR-Here
"Uvisan solution is an excellent addition to my VR Experience Centre. It is an essential tool to maintain safety to customers and staff through quick and easy operation. It gives everyone who enters the centre confidence and reassurance of the highest standards we represent as a company."

Mark Dickson, ImmotionVR
"At the University of Chichester we take pride in ensuring our students have the safest as well as the best experience across everything we do. We needed a solution that was easy to use and would eradicate any infection risk without damaging the sensitive equipment used by our colleagues and students. The Uvisan cabinet was the perfect proven solution allowing us to clean all our equipment in a simple and quick cleaning cycle."

Rod Matthews, University of Chichester
Get a Quote
Enquire now for information and pricing on RedboxVR products and solutions.